HANDMADE
The Valenttia are totally handmade, personalized and on request, for this your creation passes to the hands of expert Valencian artisans who put all their wisdom in making a work of art in the form of shoe. The normal time of artisanal elaboration of the Valenttia is between 4 and 6 weeks.
Our shoes are made with great care by master craftsmen from Valencia who have made shoes with Valencian fabrics for generations. We have an ethical production system and all our fabrics come from Valencian suppliers.
HELP TO KNOW YOUR SIZE
Place a folio on the floor next to the wall. Place the foot on the folio with the heel resting as much as possible on the wall. Make the measurement by throwing the whole weight of your body on the foot.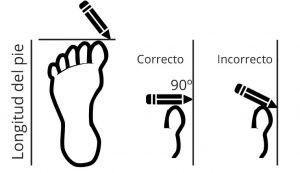 With a pencil mark to where you get the longest finger. Pencil and paper should remain at an angle of 90 º. This length consults the enclosed table.
| CM | SIZE |
| --- | --- |
| 22,2 | 35 |
| 22,8 | 36 |
| 23,5 | 37 |
| 24,3 | 38 |
| 25,0 | 39 |
| 25,6 | 40 |
| 26,3 | 41 |
| 26,9 | 42 |
| 27,7 | 43 |